Citizens participation in the government of Liberia budgeting process has over the years been low or no representation from the different sectors of the country. These were happening because citizens did not know how the process works and furthermore did not understand the budget and allocations. BudgIT-Liberia as a Transparency and Accountability institution has taken on the responsibility to educate the locals about the national budget and how allocations are made. Liberia scored six percent in the category of public participation in the open Budget Survey report (Cabri-2022)
Since the passage of the Public Financial management law of 2009, the national government has not included citizens in the formulation of the national budget. As part of efforts to enhance citizens' understanding and promote participatory governance, a team from BudgIT Liberia conducted a one day awareness with community dwellers, marketers and street sellers about the simplified 2022 fiscal year national instrument.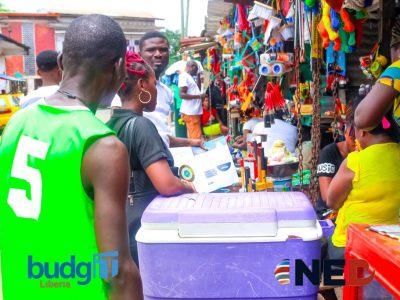 Photos from the awareness.
The essence of the budget awareness was to educate citizens about the 2022 national budget and how they can engage their constituents' Lawmakers to advocate for a citizen centered budget. Many of the citizens interviewed during the awareness held the view that the budget is a tool for the government and should be discussed by government officials so it has never been their interest because they are not seeing what the national government is doing with the money they collect from citizens as taxes.
However, our team educated them that the national budget is a major development tool of the government to improve the livelihood of its citizens hence, all citizens need to to be educated and concerned about where their resources are spent.
Citizens were astonished to know and read that 3.6 millions United States Dollar is in the 2022 national budget for legislative engagement & public accessibility programme whereas; Lawmakers have 960,121 United States Dollars in the 2022 national budget for Constituency Visit.
Views from citizens during our budget awareness: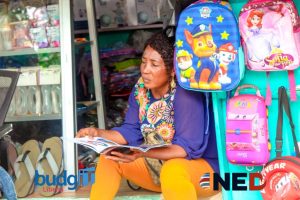 Comfort Wahbloh: "Our Lawmakers are not in our interest; they don't think about us the ordinary people but rather they are approving budgets in their interest"
Lorpu kollie: "I have come to the full understanding that our elected officials have been misinforming us about how they are using their own money to build new roads, clinics and financial aids they give during the election period; thanks to BudgIT Liberia for educating me about the national budget. I will also share these pieces of information with my colleagues so that they can be informed about the national budget"
Moses Lamie: "I have got some understanding of the national budget from this awareness. I want to recommend to the BudgIT Liberia family to keep educating citizens on the national budget. It is difficult to understand the budget when you are not guided by one. I wish to know more on how to engage my Lawmaker about the national budget"
Jacob Wreh: "Information sharing is very important in democracy. The initiatives taken by BudgIT Liberia are very cardinal because it informs citizens how their government uses their taxes. I will make a follow up with the representative of my district to inquire about the allotment made in the national budget for our district. I would like to recommend to BudgIT Liberia to keep up the good work. Also, I would like to say that more awareness need to be done on the national budget most especially in rural areas"